UCB 'discovery' leader appointed to key innovation role
Posted by
Scott Fleming, UK Communications
24-May-2012
We're on a bit of a roll. In March Dr Roch Doliveux, CEO of UCB, was appointed to
chair the Innovative Medicines Initiative
– a €2bn public-private partnership dedicated to boosting Europe's R&D productivity in our industry.
This is a huge honour and an endorsement of our ambition to be a biopharma leader dedicated to innovation.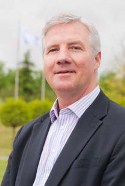 Now Dr Neil Weir, Senior Vice President of Discovery at UCB, has been appointed Chair of the ABPI Innovation Board. The ABPI represents innovative research-based biopharmaceutical companies in the UK and a key voice in the life sciences sector.
Neil leads discovery at UCB and has been responsible for bringing 20 novel molecules from discovery into development. He's our go-to guy when it comes to turning the latest science into new therapies.
As Neil said when his appointment was announced, this is a critical time for the industry, the future of which lies "in the ability to continually innovate". New medicines and other ground-breaking solutions that go beyond drugs are essential if we are to meet patients' needs in the years ahead.
For UCB, research and innovation have been at the heart of our success throughout our history. We intend to keep it that way.
Last year 24% of the company's revenues were invested in R&D. In the UK, where I'm currently based, that makes us one of the top five investors in pharma R&D in the country.
Of course, these recent appointments are testament to the calibre of the individuals concerned but also it says a lot about UCB's stature as an innovative player in the biopharma field.