UCB Spain wins award for epilepsy initiative

Posted by
Jesus Sobrino, UCB Iberia
14-Nov-2016
UCB has won a prestigious award for an innovative project designed to raise awareness of epilepsy in Spain.
The prize was presented at the 2016 EFPIA Health Collaboration Summit in Brussels on 9 November. The event was hosted by the European Federation of Pharmaceutical Industries and Associations (EFPIA).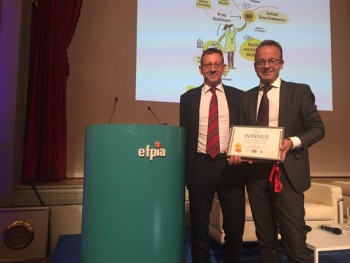 Willy Cnops and Xavier Hormaechea receiving the award in Brussels on behalf of UCB
The awards, established by EFPIA and the Patient Think Tank in 2015, aim to share best practice in multi-stakeholder collaborations that benefit patients and healthcare systems.
UCB was recognised for the project 'To Live with Epilepsy' (Vivir con epilepsia), an innovative initiative that raises awareness of the disease and tackles social stigma in Spain. Around 400,000 people in Spain are directly affected by epilepsy but knowledge and understanding of the condition remain low.
The project features a specially designed
website
focused on epilepsy to enhance public knowledge about it and share patients' experiences. By creating a digital community on epilepsy we helped to bring the patient voice to the centre of epilepsy conversations.
The site has a blog which is a useful way to build a strong and loyal community of patients and health professionals. The initiative also includes a Facebook page to reach out to patients living with epilepsy, and a Twitter channel for reaching health professionals.
The project helped to normalize the disease among the public and to reduce stigma and social exclusion. The website received more than 66,000 visits from 54,000 unique users.
This is not the first time 'To Live with Epilepsy' has been recognised as an innovative initiative. It was named 'Best Social Health Awareness Campaign' by Publifestival in 2015 and won the Solidarity Category prize at the Diario Médico Best Ideas Awards in Spain. We are delighted to add this European award to the project's growing list of accolades.
We would like to thank all the partners who worked with us on this successful project and look forward to playing an active role in improving the lives of people with epilepsy in Spain and around the world.