*Update* 'Carpooling for Cargo' wins top prize

Posted by
Cindy Maas, Media Relations
07-Jul-2011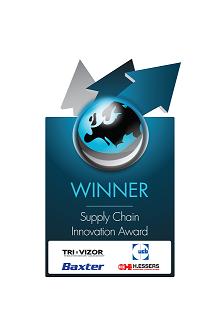 Good news: UCB's 'Carpooling for Cargo' initiative – run in partnership with Baxter, H.Essers and Microsoft – has been recognised for its innovative approach to moving medicines across Europe.
Regular readers might recall
our earlier article on the project
that mentioned that it had been shortlisted for the Supply Chain Innovation Award which promotes lateral thinking in logistics management. Well, at the recent awards ceremony in Berlin, we won!
Carpooling for Cargo faced stiff competition from excellent initiatives by the Bakkavor Group, DHL, Helveta, Toyota, and the Irish Dairy Board with Sterling Commerce, so we were truly delighted to be recognised.
The system is a triumph of partnership within the industry matched with cutting edge cloud computing technology and smart logistics management.
From left to right:
Marc Mostinck, UCB - Sven Verstrepen, Tri-Vizor -
Ludovic Menedeme, Baxter