New year, new homepage
A new year is a great time for a fresh start. Here at UCB.com, we have taken the opportunity to launch a new homepage which has recently gone live.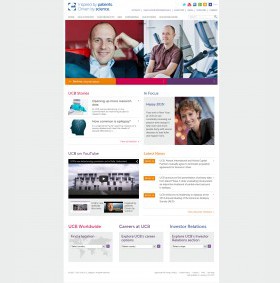 So why did we decide to revisit the homepage?
For a start, we want to bring you more content and improve our capacity to focus on specific features or activities that we think you will appreciate.
Secondly, we want our site to be easier for you to navigate. There is a lot of material on the website and our readers are a diverse group – patients, healthcare professionals, journalists, investors,... The homepage is our most popular page. You should be able to find what you are looking for with ease, and UCB.com should guide you to key content.
Finally, we want to have an attractive and modern homepage which presents gateways to large amounts of information while remaining clear and well organised.
A number of changes – some major, some minor – have been introduced. There are six new clickable images which bring you to different parts of the website, including disease pages and the 'About' section.
Some of the most popular elements of the site have been retained and improved. For example, our 'Magazine' section has been renamed 'UCB stories', and we have kept the 'Latest News' and 'UCB Worldwide' features.
There are new items too. 'In Focus' allows us to put the spotlight on new content on a regular basis, while videos embedded from our YouTube channel offer a dynamic and visual dimension to the homepage.
Our 'Careers' and 'Investor Relations' sections – both popular with readers – come with dropdown menus which make it easier for you to find what you need.
We hope you will enjoy the new-look homepage and would be delighted to hear any
feedback or suggestions
you may have.