Connecting Europe's neurology rising stars
Europe has some of the world's most promising rising stars in neurology. But because stars are best appreciated as a constellation, UCB is playing its part in connecting the best and the brightest.
21st century doctors do not work in isolation and their education does not end when they graduate from medical school.
Today's medical specialists are on a journey of continuous learning, working with networks of experts to expand their knowledge and improve the care they deliver to patients.
To support this, UCB hosted the Epilepsy Patients Experience Workshop in Paris on 26-27 June. This was the fifth interactive workshop of its kind in neurology. It brought together 35 neurology rising stars from across Europe to discuss their own clinical practice and to learn about the needs of specific epilepsy patient groups.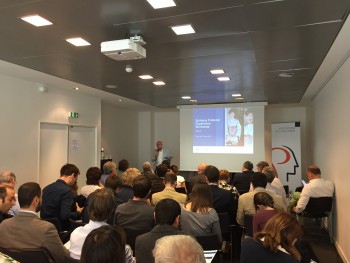 Some of Europe's leading experts in neurology were on hand to lead discussions on hospital-based neurology care; working with elderly patients, and patients with brain tumours.
There was a strong emphasis on the importance of tailoring multidisciplinary care to meet the specific needs of individual patients.
The workshop also discussed the importance of drug interactions in the management of epilepsy; epilepsy as a comorbidity; managing epilepsy in an intensive care setting; and a series of real-life patient case studies.
Participants praised the workshop's high-quality scientific content which helped to share best practice in Europe.
By supporting educational meetings of this kind, UCB aims to foster networks and experience-sharing among physicians throughout the EU. This will help to improve care for all people living with epilepsy, in keeping with our tagline:
Inspired by Patients: Driven by Science.