Introducing the UCB Annual Report 2.0

Posted by
Isabelle Ghellynck, Investor Relations
08-Mar-2012
Let's face it, few people read annual reports from cover to cover. If you're interested in finance, you skip to that section and skim the rest. Others might ignore everything except the research section or focus exclusively on the Letter to Shareholders.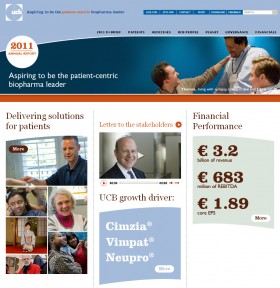 Yet we've always produced lengthy, hard copy documents for distribution to all. Until now.
The latest UCB annual report is an online publication. It was designed for the web, meaning it is more compact, has more images and can be easily navigated.
Those who wish to print a particular section can do so without printing dozens of pages they will never read.
Last year, we published the 2010 annual report for which there was also an online version. Back then, the online edition was a secondary priority. The difference now is that the web version comes first.
In fact, there are no printed copies of the annual report. A pdf is available, but the days of printing and distributing thousands of copies of our annual report are in the past.
So why go 'online only' and why do it now?
I have had the pleasure of coordinating the company-wide effort that led to the revamped annual report. Going 'online only' was not a decision we took lightly but we feel the time is right for change. 
For one thing, seeing online publication as the priority is a natural progression; we're joining a worldwide trend. All of us know that when we need information, the web is usually the first port of call. 
As well as that, we've done a lot of research and found that while readers view the traditional annual report as a wealth of information, many see it as so detailed that it's hard to find what they are looking for.
Some people even give up because they grow tired of searching – perhaps suffering from 'information overload'.
This has helped us rethink how we organise the information we're sharing with the public. For example, last year the online version included every page of the financial report – that's about 100 pages. This year, it's down to nine pages. We've kept the essential information which stakeholders are looking for but dispensed with the rest.
Saving paper, saving time
Another benefit of going online is that it's greener. Annual reports are typically printed in full colour on high-quality paper, before being posted around the globe.
We looked at how many copies we have printed in previous years and found that every year the print run has fallen by half. Last year we printed 5,000 copies and only 2,000 were distributed. However the visits to our website increased steadily.
Not only does this seem wasteful, but printing can take two or three additional weeks – time we would prefer to spend interacting with our stakeholders.
We are confident that online publication is the way forward but, of course, the ultimate test will be in how readers react to it. The online report includes a feedback button which allows users to let us know how we can improve the publication.
My own guess is that while this process required a major shift in how we share information with the public, future generations may find the idea of printing hundreds of copies of company reports a little bizarre!
Time will tell.