UCB Digital Care Transformation (DCTx) Incubator: partnering in innovations that positively benefit patients, society and the world.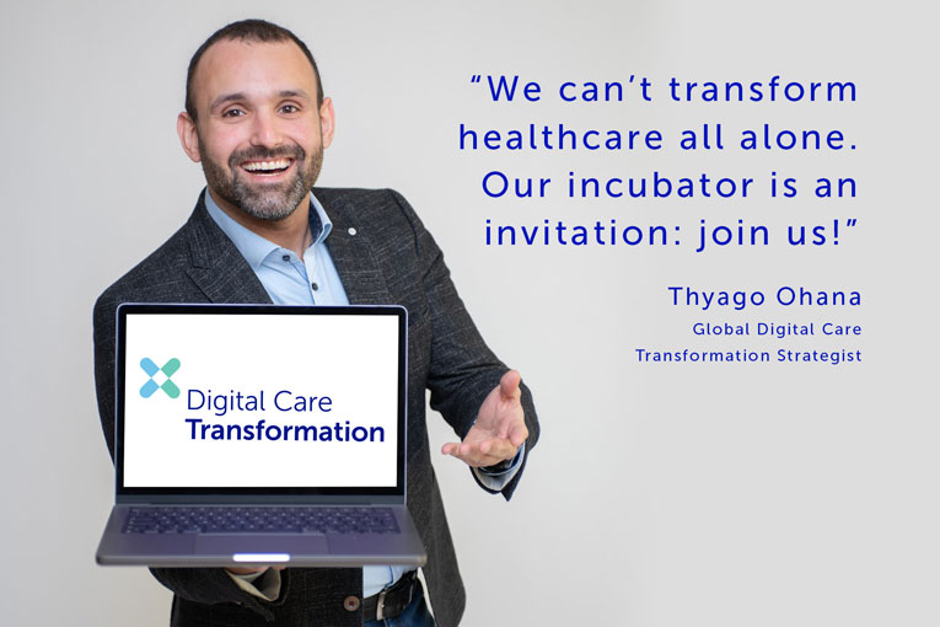 UCB will be launching a digital health incubation program.
We want to partner to help accelerate innovative digital health solutions.
Meet and get in touch with some of the leading voices in our team.
UCB Digital Care Transformation (DCTx) Incubator: partnering in innovations that positively benefit patients, society and the world.
At UCB, we want to amplify the power of scientific innovation through digital transformation. To do that, we are commited to being the best partner, and we want to partner with the best.
It is with this mindset that in January 2022, UCB is launching its Digital Care Transformation (DCTx) Incubator. The program is designed to seek out and accelerate the very best early stage innovations with entrepreneurs and startup businesses around the world.
Join Thyago Ohana, our Global Digital Care Transformation Strategist, as he presents the DCTx Incubator program to the world for the first time.
On behalf of our DCTx Team, let me introduce you to the program that gives us (a) the mandate to experiment, (b) the opportunity to foster digital innovation and (c) the responsibility to create value for patients, society and the world.
What does the DCTx Incubator look like?
Our DCTx Incubator will be looking for innovations that have the potential to address some of the biggest challenges UCB is committed to solving for specific patient populations. These innovations will address the dozens of clearly-identified friction points that we know exist for patients across both neurology and immunology.
Throughout 2022, our DCTx team will reach out to forward-thinking innovators, entrepreneurs, startups and scaling companies around the world, looking for problem-solution matches. We will also be looking for individuals and organizations who want to form meaningful partnerships with us.
We'll invite them to come together virtually and/or at UCB, where we will help them evolve their solutions faster than it might otherwise have been possible with help from our team of innovation specialists in a structured program specifically designed to prove the value of the best solutions.
We know that ours is one of many healthcare innovation programs in existence today. But it is a program like no other. Let me explain why.
How is the UCB DCTx Incubator different?
First and foremost, purpose is what differentiates us. The DCTx incubator will be looking for innovations that use data and technology with purpose to create sustainable value for patients, society and the world. That is to say we will be focusing not only on solving specific challenges that are strategically important, but that are also societally and financially valuable, feasible and clearly desired by both patients and the wider healthcare ecosystem.
Secondly, flexibility. We designed our program to be uniquely flexible. Some of our partners will need more time, some more money, some more resources and others more access to data, markets, expertise or testing. And we have built in the flexibility for that. Each potential partner will get a custom pathway to validate and accelerate in a timeframe that works for them.
Last, but not least, expertise. We take pride of our scientific legacy and leadership as a global biopharmaceutical company. And we'll share this pride and accumulated know-how with partners, who will be mentored by UCB. After all, UCB's digital care transformation team counts with some of today's most well-respected voices in the digital health space for the specific patient populations we serve within neurology and immunology.
We're a team of sixteen people collaboring with dozens more across UCB's whole value chain. Curious about the team? Keep reading and let me introduce you to some of the leading voices of the DCTx Incubator.
Meet some of the leading voices of the DCTx Incubator

Colin Lake serves as the Head of Digital Care Transformation Neurology at UCB. Colin spearheads UCB's efforts to improve the support for patients and key stakeholders in the healthcare ecosystem by driving UCB's ambitious digital agenda for Neurology. Colin has extensive experience designing and delivering digital services across a variety of industries, including over 10 years across the full spectrum of pharmaceutical processes.
Connect with Colin on LinkedIn

Erik Janssen is the Head of DCTx Immunology at UCB. Erik is a healthcare executive with a passion for digital health, corporate innovation, making a difference by creating partnerships and most importantly by transforming how care is delivered to patients with chronic diseases in rheumatology and dermatology. Erik is also a managing director of the Bluehealth Innovation Fund and a mentor to several digital health and medtech companies.

Marie-Noel is the DCTx incubator project lead at UCB. Marie-Noel is the one in charge of the set-up and operationalization of the incubation program as well as supporting the daily needs of the selected startups to achieve their goals. Marie-Noel is a former digital health entrepreneur with experience as a consumer of incubation and acceleration programs. She is passionate about solving challenges in healthcare and shaping the future of health.
Connect with Marie-Noel on LinkedIn
Where to find out more?
We'll launch our new DCTx Incubator website in late January. It will be the 'go-to' place for everything related to our DCTx incubator including detailed information and – of course – the entry point for potential partners to submit their ideas. In the meantime, follow UCB on LinkedIn for news on our challenges, events and more.
On a side note, if you want to learn more about our DCTx Incubator and get some conversations started, we are more than happy to get your invitation to connect via LinkedIn.
About the Author

Thyago Ohana is the strategy lead for Digital Care Transformation at UCB and the head of the DCTx Incubator. Thyago is passionate about people, technology and the future – and how these things connect. He likes to call himself a "Digital go-to guy and story-teller leading positive change in healthcare one smile at a time.
Connect with Thyago on LinkedIn