UCB Ventures and AXA Venture Partners: seeking innovation in digital health
In this interview, UCB Ventures Partner, Delphine Hajaji, connects with François Robinet, Founding and Managing Partner at AXA Venture Partners, to tell us more about why both organizations decided to collaborate. In particular, why AXA Venture Partners chose to open their Fund to other investors and why UCB Ventures became one of their first external investor.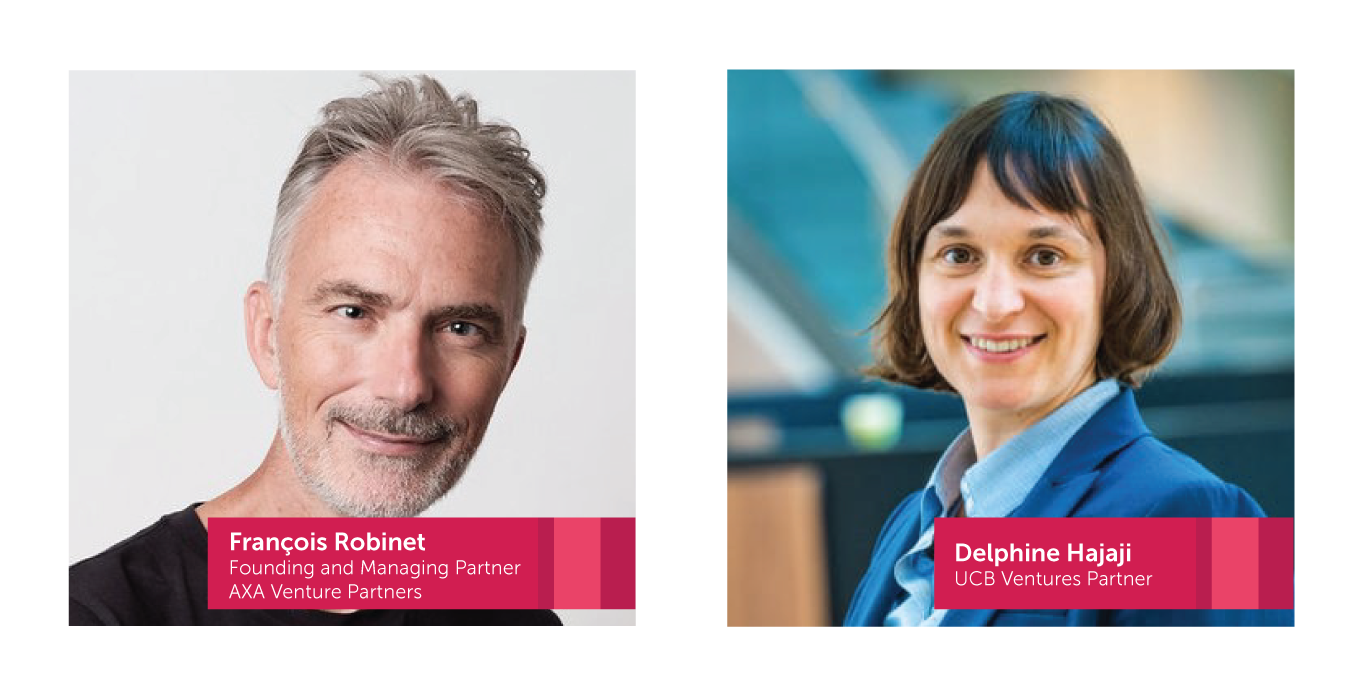 Delphine (D):
Healthcare innovation has the potential to improve the lives of patients dramatically. And that is exactly why UCB Ventures has specifically been investing in therapeutic innovation for the past few years. We offer investment and expertise to young companies whose inventions we believe will become the therapies of tomorrow. Since last year, we also plug into the digital health ecosystem, which gives us a perspective on how digital health is evolving.
And that is why I am excited to tell you about our investment and partnership with AXA Venture Partners (AVP). I'd like to introduce François Robinet, Managing Partner of AVP, which he founded in 2015. François is as excited about our new partnership as I am. Before we explain why, would you like to tell us a little about AVP?
François (F):
In a nutshell, AVP is a multi-stage tech investment platform with a global footprint supported by local teams on the ground in Europe and the US who focus on a broad spectrum of companies from early stage to late growth phase. In terms of investment verticals, we focus mainly (but not exclusively) on Fintech/Insurtech – enterprise Software (SaaS models) consumer platforms, and digital health – because we believe digital will transform the healthcare ecosystem.
Our investment team comes from the VC industry, and we have now built an investment platform with global scale and strong market expertise. As of today, we have made a certain number of investments in the digital health space such as these examples:
Wellth
(improves adherence in chronic disease populations using the science of behavioral economics),
Mindoula
(next-generation behavioral health management company),
Valera Health
(tele-behavioral health service),
Troy Medicare
(AI-driven, pharmacy-powered Medicare Advantage company in the US),
Incepto
(AI for medical imaging) and
Hint
(powering provider-led solutions that are showing remarkable results in improving cost, outcomes, patient experience).
Zooming in on Incepto, this French company is co-creating and distributing AI apps for medical imaging on a single platform. This interesting start-up was funded by AVP one year ago with the intent to reinvent the medical imaging space through AI. It's the kind of company that could be potentially relevant to UCB.
D: So François, what drives AVP?F:
While our primary role is to invest and generate returns for our LPs, we also believe in bringing something different to both the companies we invest in and our investors. One way to do this is to connect our portfolio companies with our investors to develop business relationships. This allows investors to be exposed toinnovative companies in their specific space and our young companies to get access to both capital and also to potential partners and clients.
D: So, why did AVP decide to look for investors outside of AXA?F:
Two main reasons Delphine: to grow the size of our funds but also to validate what we've been doing for the past 5 plus years. While size is not really an objective in itself, we've nevertheless been growing nicely and so began looking for new external investors. And seeing a variety of interested third-party investors – some focused on financial performance and others on strategic development – has been positive and excellent validation. We have been backed so far by AXA for the first generation of our Funds, and now the objective is to welcome external LPs, keeping AXA as a strong and anchor investor.
D:
We're certainly pleased that you decided to open up your investor base! As you know, UCB Ventures has chosen to partner with funds with an excellent track record in digital health. We recognised that this approach would help us build a digital health network and learn faster about this space with a broader and immediate exposure to investment opportunities across Europe and the US.
When we were looking for funds to partner with, the synergy between our organizations stood out. We also appreciate how you add value to both your investors and your portfolio companies. And your expertise in digital beyond digital health is also very attractive to us; it allows us to learn how other industries are changing – and specifically how healthcare insurance is evolving.
François, what attracted AVP to UCB Ventures?F:
I mentioned before how we aim to make a difference for both the companies we invest in and our investors. In UCB Ventures, we have an investor who is also a partner interested in connecting with our young companies. Our partnership is also a differentiator for AXA because digital health is strategically important to AXA, and UCB Ventures gives AXA access to digital health companies. We expect it to generate some interaction between AXA and UCB, potentially testing some digital health innovations within the business.
Regular dialogue and interactions with UCB Ventures will also help AVP to better understand the healthcare ecosystem, which is very complex. While we believe we understand the payer side because of our connection with AXA, we also need to understand the other dimensions and access companies there. And our partnership will open the door to some new and interesting companies, because now we can tap into your bio/pharma expertise Whereas previously, we may not have invested in certain companies because they operated outside our domain expertise, now, for example, I can call you up and ask who can help me assess a company in that space.
We are very proud to have you as an investor in the second vintage of our early-stage Fund.
D:
Thank you again for taking the time to speak to us François. We're incredibly excited to be working with AVP and the companies you're investing in. Investing for the future has served UCB – and patients – well. And we are pleased that our partnership with AVP opens the door to ensuring more of the creative ideas generated by small start-ups will be transformed into healthcare solutions of tomorrow.
About UCB Ventures
UCB Ventures: 150M EUR Fund, with 7 investments in therapeutics to date, 4 investments in lifesciences funds, and 2 investments in digital health funds (Waterline Ventures and now also AVP).
About AXA Venture PartnersAXA Venture Partners :
1bn EUR of assets under management through different strategies: early stage, growth and Fund of Funds ; more than 40 direct investments, more than 10 investments in Digital Health.