Our UCB External Sustainability Advisory Board: Accelerating our journey to becoming a sustainable biopharma leader
Sustainability lies at the heart of everything we do. It drives our positive impacts on society and the environment as well as our long-term financial success. It's critical.
Our two foundational topics for sustainability are our commitment to diversity, equity, and inclusion across our business and the ethical principles of transparency, respect and integrity, while we focus our efforts on improving health around us through four critical areas – scientific innovation, access to medicines, employees' health, safety and wellbeing, and the health of the planet – with measurable and transparent goals for each area, to be achieved by 2030.
To achieve these goals and accelerate our efforts and impact, we established an External Sustainability Advisory Board (ESAB). Our ESAB brings together six thought leaders, each recognized as a change agent in society. Working in collaboration with our CEO, Executive Committee, Board of non-executive Directors and other senior leaders, the ESAB will help us stay on track with what society expects from a sustainable biopharma leader.
The ESAB will provide external expertise and perspective on UCB's sustainability approach to deepen UCB's understanding of sustainability and provide insights and recommendations to enhance our positive contribution to society.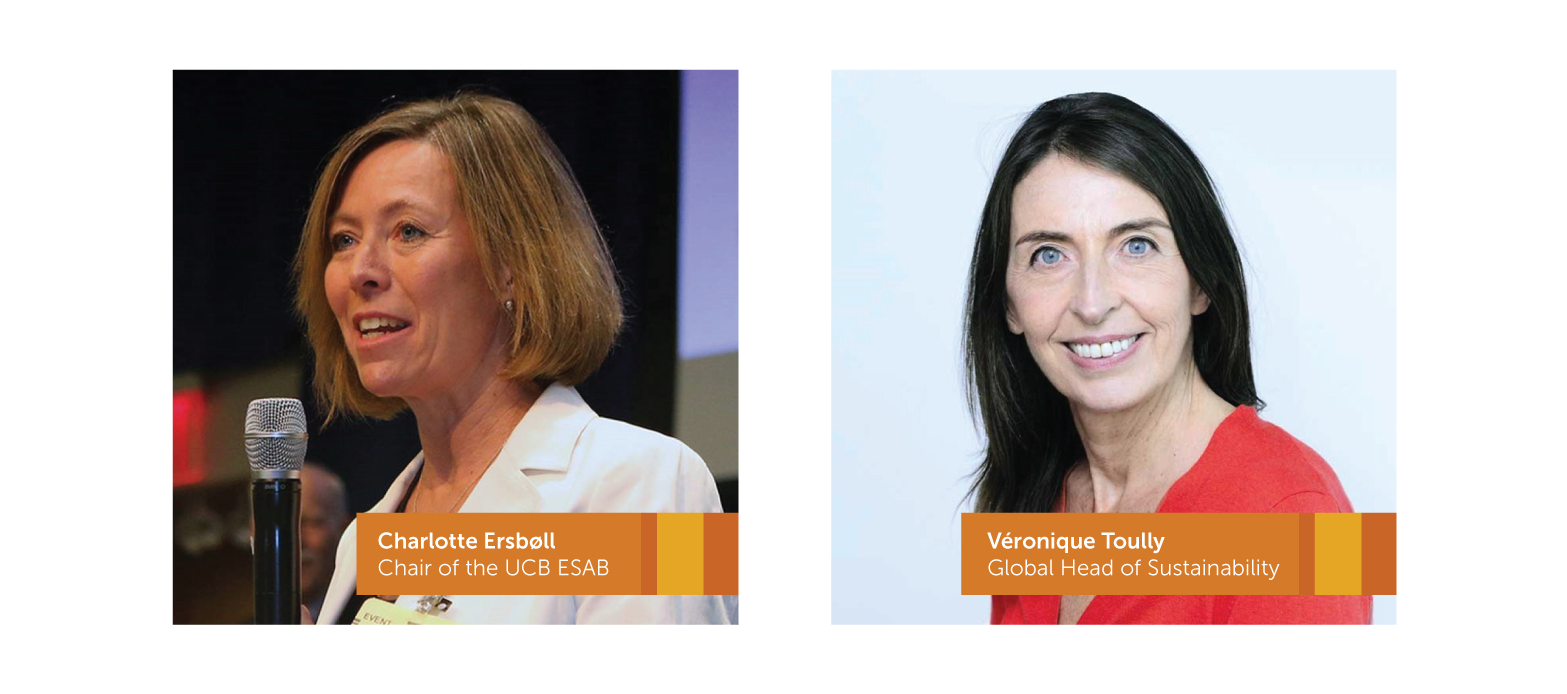 Veronique Toully
, our Global Head of Sustainability, shares a few words on the role of our ESAB:
"Business must be part of the solution to co-create the world we want to live in. And we established our ESAB as part of our ambition to impact positively society around us. This means having top of mind the value we want to create for patients, the people who work with us and the community in which we operate, as well as the protection of the planet.
In our ESAB, we found like-minded people. Simultaneously, the members are experts in their domain with a holistic view of what sustainability is and what should drive it. We're extremely grateful to every one of them for joining us on our sustainability journey.
They will help us drive the common sustainability themes all industries must address and the ones specific to healthcare: how to innovate, how to tackle unmet needs and societal health issues and how to ensure solutions are accessible to patients – with the latter the topic poised to have the greatest short term impact.
While our inaugural meeting identified numerous topics to explore – including ensuring that digital transformation and sustainability leverage each other for even greater impact – during our next meeting, we will reflect together on how we can contribute to improving access to healthcare."
We are delighted to have
Charlotte Ersbøll
, a Founding Partner of Hansen & Ersbøll and Trustee at Forum for the Future, as Chair of the UCB ESAB. We asked Charlotte for her thoughts on the UCB ESAB:
"Value creation today is much more complex than just merely ensuring a good profit and bottom line. Sometimes companies forget they are dependent on the world in which they do business. Unless we do something about climate risks, the erosion of nature and growing inequalities, it's going to be a challenging environment for running a healthy business.
Businesses have an opportunity to be part of the solution. Seeing your business through a sustainability lens allows you to take an outside-in perspective, understand your ecosystem, stakeholder expectations and where you can have material impact. It's about stepping outside your business-as-usual space, acknowledging your vulnerabilities and imperfections and asking other people to help you be part of the solution.
And it's not about being perfect. It's about showcasing where you are on your journey, understanding where you're coming from. For example, the younger generation wants to see what you are delivering – and transparency around where it isn't easy.
You have to start sustainability at the core of your business, not the fringes. And at our first ESAB meeting, we will talk about access to healthcare because that is at the core of UCB's social contract and license to operate.
I see in UCB a very patient-centric organization with a great legacy; a company that is serious about sustainability, and with the courage to bring external stakeholders in, listening to them and taking their perspectives and guidance on board. I was struck by the extreme openness coming from the UCB team at our inaugural meeting. They were willing to discuss and be vulnerable and listen to the external advisors' input. And people understood that change has to start from within; we talked about organizational readiness and the values and talent needed when embarking on this sustainability journey.
As a pharma company, evidence-based by nature, we also discussed the worrying trend of eroding public trust in science and data, and the importance for re-building that trust. And we outlined how digital transformation can accelerate the sustainability journey.
Exploring these topics from many different perspectives were truly enlightening. But true success would be seeing our input reflected in the way UCB approaches sustainability, in seeing our input materialized into concrete and measurable impact.
For me, chairing the UCB ESAB is a great opportunity to help influence and inform UCB's sustainability journey, and maybe help it become a good role model for other companies in the healthcare sector."