Our approach to sustainable packaging

UCB makes sustainability and usability key priorities in the design of our products and packaging. Packaging design is an important part of delivering value to patients while reducing our products' environmental footprint.
Eco-friendly design approach
In creating the best possible packaging, several challenges must be addressed, including compliance with regulations, on-pack labelling requirements, measures to combat counterfeit drugs, we aim at transforming packaging experience through differentiated, innovative, patient-centric, eco-friendly designs, and at improving all aspects of patient interaction with our ideated packaging solutions.
As some of our products are self-administered by patients with severe conditions – such as rheumatoid arthritis or Parkinson's disease – the distinct needs of the user must be considered carefully. By consulting patients and patient representatives, we collaboratively develop best-in-class package designs that meet the needs of users while removing inefficiencies.
 


Our eco-friendly design and sustainable approach is built around the following pillars:
The good design of a packaging is the combination between the unboxing experience AND the green pillars.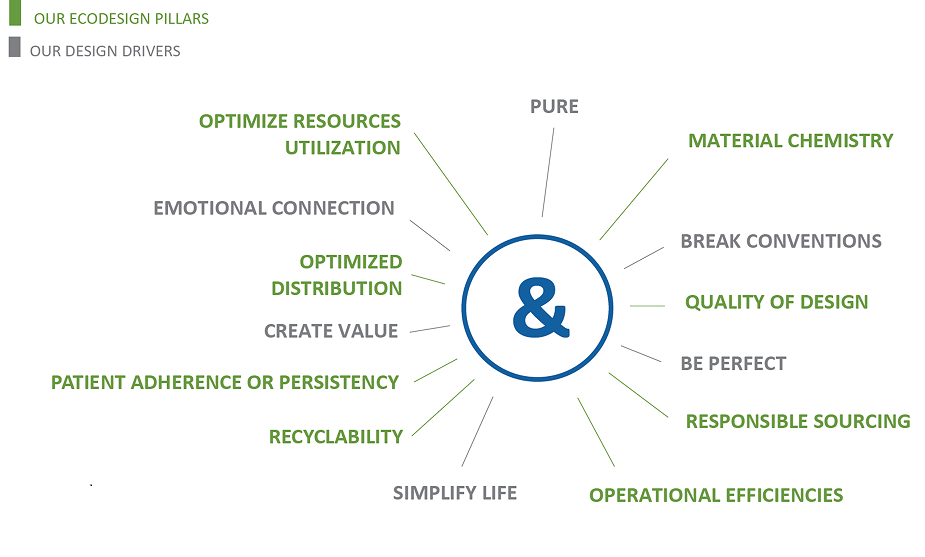 Delivering on our eco-promise
We are already delivering on our promise to give greater importance to sustainability – both in our design and in the materials we use. We have set up a Secondary Packaging & Artwork Team with the responsibility for delivering eco-friendly packaging.
We take our obligations to the planet very seriously. From concept to reality, we drive the development process in a balanced approach between innovation and creativity. The result? Pragmatic, rational and environmentally responsible packaging solutions. Their solutions reduce the induced carbon footprint, water consumption and waste production.
Award-winning eco-design 
For UCB, going green is now the new normal. Going green is etched in our sustainability approach as we aim to deliver carbon-neutral operations at UCB by 2030. With our eco-design approach, we will continue to pioneer sustainable and eco-friendly packaging innovations.
Our team has already been recognized through 3 eco-design PHARMAPACK Award in the health product category – a category assessed by a professional jury made up of experts from leading research institutes and universities, industry and the trade press.
Our new packaging design shifts the paradigm of pharmaceutical packaging, embedding innovative packaging features that focus on package size, recyclability, sustainability and waste. This design doesn't just reduce the ecological footprint of the packaging; it also aims to enhance the patient experience and increase medication adherence.