Let's Get Digital! A look at UCB's digital transformation in R&D
Around the world, technology is changing how patients experience healthcare, how healthcare professionals practice medicine, and how pharmaceutical companies like ours conduct research and provide medicines to those who need them. Research and development is at the very heart of what we do here at UCB, and we are amplifying the power of scientific innovation through digitalisation to create sustainable value, ensuring that patients get the solutions they need and can live the lives they choose.

Creating patient value in a digital age
At UCB, our central mission is to deliver value for people living with severe immunological and neurological diseases now and into the future. To do this, we've recognised that leveraging digital technology throughout the business is not just a choice but a necessity; it allows us to think outside the box and create transformative projects that meet patients where they are. Our Digital Care Transformation (DCTx) approach aims to use data and technology with purpose throughout the whole value chain, for both drug and non-drug solutions, as we know patient value extends beyond the molecule.  
Today's patients consider themselves as active participants in their care journey; they are increasingly demanding more personalised and convenient healthcare solutions. To meet these demands, we're creating digital initiatives that unlock holistic, personal and efficient value – generating value for patients from more than just drugs.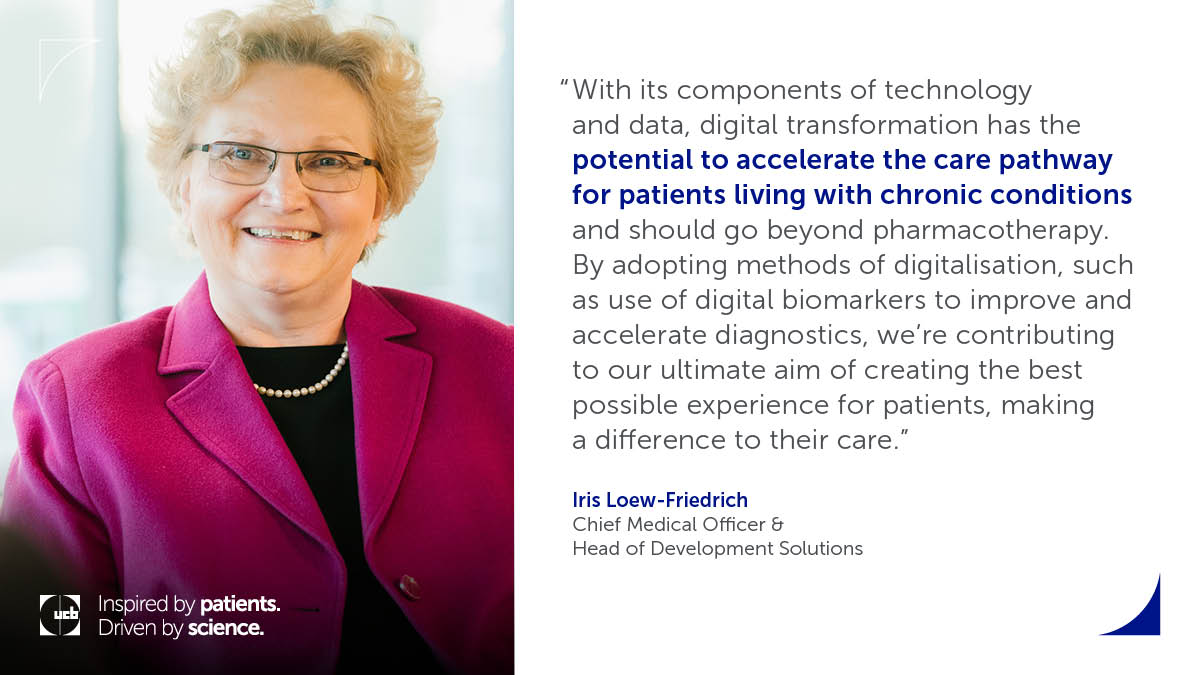 Embracing digital business transformation to accelerate solutions 
UCB is making strides through digital business transformation to boost the efficiency and effectiveness of our operations, creating new – or modifying existing – processes and tools to deliver additional value for patients and stakeholders.

Discovery
In drug discovery, we're implementing digital business transformation initiatives with the aim of increasing the speed at which we deliver solutions to patients. The UCB Moonshot effort, developed in partnership with PostEra – a start-up biotech company that maps routes for drug synthesis using AI algorithms – is working to test and refine crowdsourced drug designs, sourced from medicinal chemists, to develop an anti-viral treatment for COVID-19.

The initiative is not only providing better research data-driven insights to fast-track the discovery of therapeutic molecules and improve patient journeys, but also helping to find "pockets" that may not have been seen before and re-envision "undruggable targets".

Efficiency
The last decade has introduced new computational methods which increase the cost-effectiveness and efficiency in the pharmaceutical industry. The digitalisation of patient records and clinical trials, the advent of cloud computing, the growth of wearable devices and the medical Internet of Things (mIoT) has transformed clinical development with an explosion of data.

In development phase, our Statistical Science & Innovation group at UCB, recently filed a patent application centred around an improved machine learning method. The application has been designed to search through a large hypothesis space to identify the most valuable pieces of information and allows AI to predict an outcome or provide decision guidance. This innovation has already been used to inform patient stratification, clinical trial design and precision medicine approaches for Parkinson's disease and epilepsy.
 
Being Data-Enabled
At UCB we use data analysis to answer questions and inform better decisions on behalf of patients and caregivers, which has had a tremendous impact on how we work, as well as how efficiently we can deliver results. For example, the use of analytics and machine learning throughout our drug discovery, development, and innovation processes means we can optimise the way clinical trials are designed. This includes patient selection, automated analysis of trial data and enhanced logistics operations. All this work is expanding, allowing UCB to build a platform to maximise the value of our data for patients.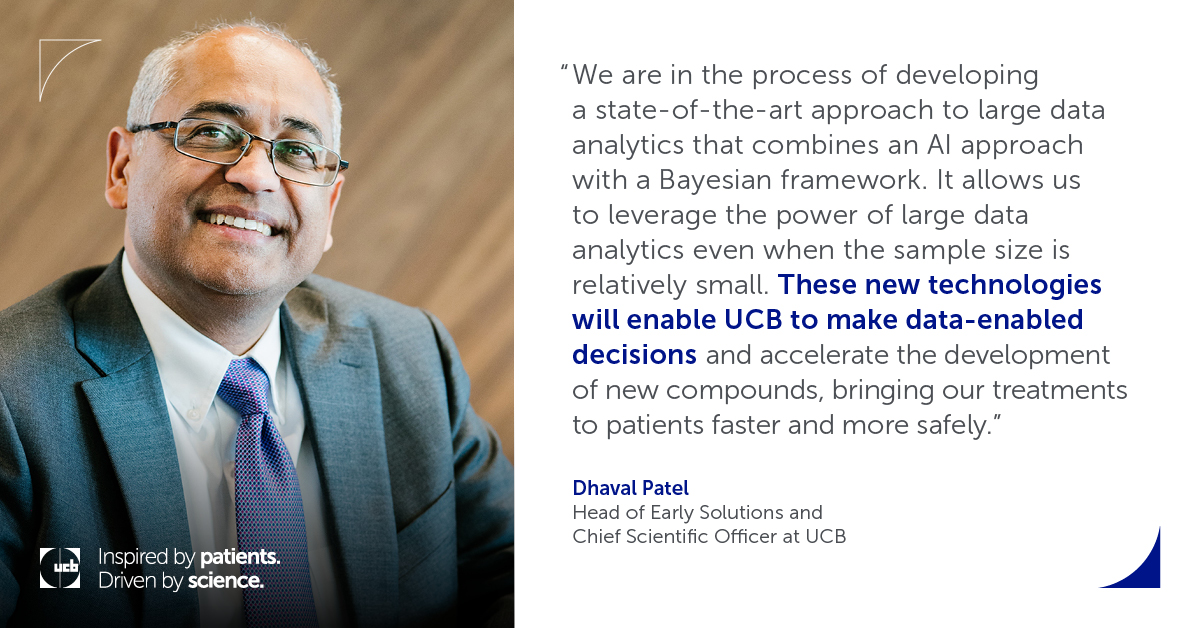 Connected
Collaboration is an important component of innovation and scientific breakthroughs within UCB, which is why we partnered with several of the top digital health companies in 2021.

One key example is our partnership with Microsoft, which combines our deep knowledge in bioscience with Microsoft's unmatched expertise in computer science and artificial intelligence (AI) to reinvent how we create new medicines. The ambition is to establish a 360° data-enabled view of patient populations to discover and develop medicines faster for people living with severe diseases. This collaboration opportunity with Microsoft will provide AI technology to work alongside UCB's scientists and data specialists, to break boundaries and allow UCB to discover new correlations and patterns critical to finding innovative and highly individualized medicines.
At UCB we are committed to refining and evolving our digital research and development strategy with partners and collaborators, to best serve patients who are the driving force of our motivation for all that we do. The opportunity and challenge is to be continuously innovating and intensely curious as industry leaders to create patient value in the digital age.