What is innovation?

Innovation is a well-used word in the pharmaceutical industry. It has been used to describe culture, capabilities, bringing ideas from other industries into ours and the medicines that we discover and develop – but what does it actually mean?

The word "innovation" is derived from the Latin verb innovare, which means to renew, change, or reform and 'official' definitions tend to be along the lines of 'new methods, ideas or products that lead to change'. Essentially, innovation does not have a one size fits all definition.
This is something that we think rings true at UCB - for us, innovation is a concept that is constantly evolving and changing as new technologies, trends, research findings and ideas emerge. But, most importantly, innovation needs highly skilled and motivated people to implement it.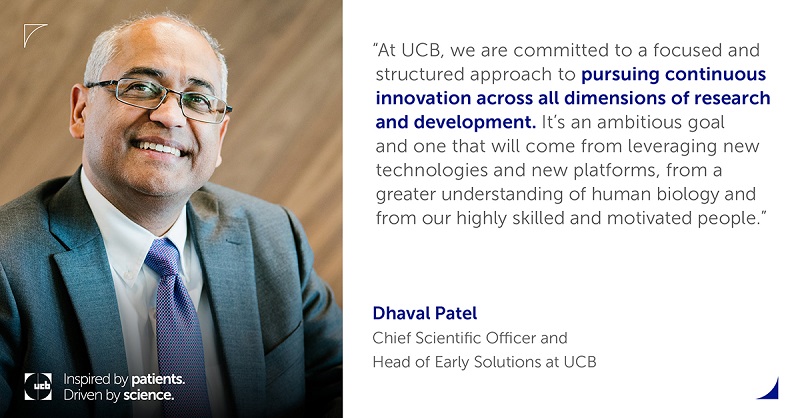 Because we know that our people are vital in the pursuit of innovation, and they are all unique, we set out to understand what innovation means to them and what they think makes a strong innovation culture. We are calling this our 'Innovators' campaign, which we are launching today. The 'Innovators' campaign spotlights our R&D employees' perspectives on innovation. Whether it is to bring new breakthroughs from lab bench to bedside or seeking to solve challenges for people living with severe diseases through collaborative partnerships, our campaign aims to showcase what drives innovation at UCB, how we approach innovation, and what is our innovation culture.
From ground-breaking scientific platforms to high-tech manufacturing, UCB is home to a thriving and dynamic community of scientists who will enable us to be faster, flexible, smarter and more scalable – we think this makes our company one of the most exciting places for creative minds and people determined to innovate, pushing the beyond the boundaries of what's possible and shaping the future.
Learn more about how we have created a home for innovation at UCB.