UCB – A Home for Innovation

Innovating and turning science into medicine will never be easy. It requires a culture that nurtures and fosters innovation, skilled people who want to make a difference and access to state-of-the-art technology. At UCB we work hard at getting this balance just right and though there is always room for improvement we think we have the right people, partners, disciplines, behaviors and technology that gives us a home for innovation to thrive. 
Assisted by world class facilities and state-of-the-art scientific platforms, over 1,700 researchers are continually evolving and improving our science, their knowledge, and capabilities to ensure we can quickly discover and develop new medicines. They are fuelled by the drive that treating is not good enough - modification and cure are key. 
We believe that by closing the gap between scientists and patients, we can discover new ways to target the drivers of diseases we aim to treat, prevent and in the future, hopefully cure. All pharmaceutical companies are "data-driven". They take large pools of data to see what learnings can be extracted from it. At UCB, we are data-driven too, but we are also question-led. This helps us connect the patient to our science and we believe it is an approach that better serves patients and allows us to focus on answering the most important questions. Questions like, "How can we improve symptoms and how quickly?", "What is the appropriate dose of a medicine?", or "Can we predict future patient response to a treatment?"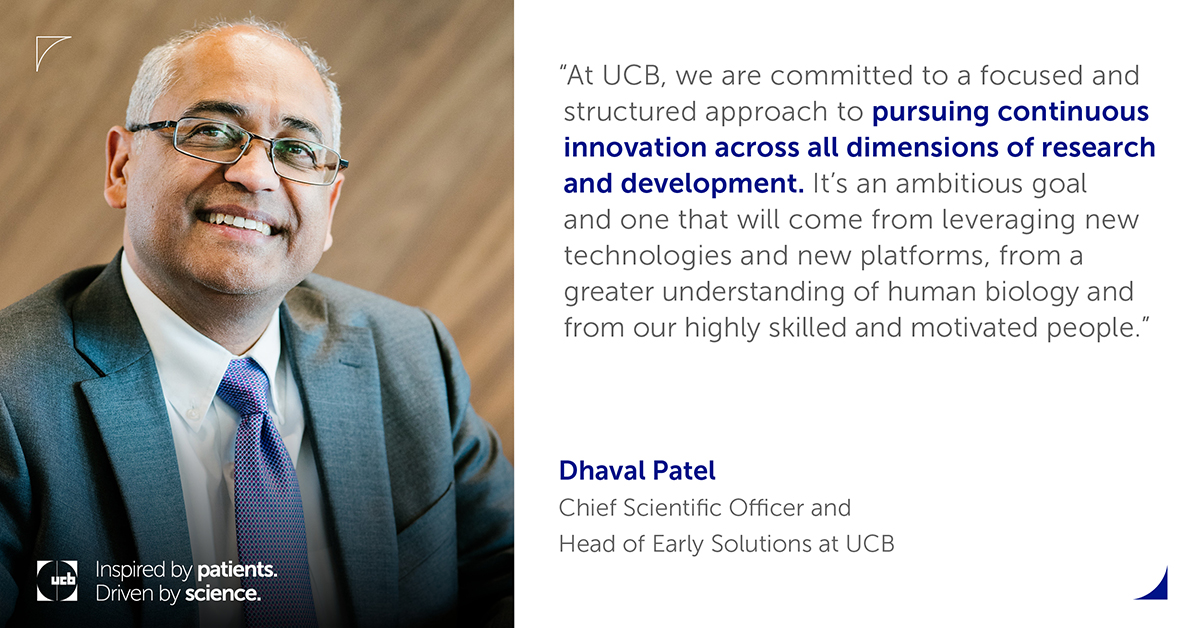 We embrace collaboration, both internally and externally, as none of us have the answer alone. Real breakthroughs come from open collaboration and partnerships, which is why we make it a priority to work with such a wide range of stakeholders across different disciplines. This requires constant dialogue and a culture of sharing, open-mindedness, and constant questioning. When you overlay the connectivity we have between our people, partners and technology, you have a powerful mix. 
The role of culture in making innovation a reality cannot be underestimated. For creativity and innovation to thrive, the organisational culture must support it. We encourage intelligent risk taking and experimentation - they are essential to innovation. We treat failures as a learning opportunity and create opportunities to discuss and learn from them. Open communication, empowerment and giving the space are all encouraged. Opinions are shared and disagreements are handled constructively. Employees are given autonomy to make decisions and determine how they get work done within high-level guidelines. We provide time to be creative and innovative; space is given to process complex problems and put the pieces together.  
Innovating will never be easy, but we are passionate about building a home for innovation, an exciting place for creative minds and people determined to innovate, push beyond the boundaries of what's possible and shape the future – a home for innovation to thrive.