UCB First Three Months Interim Report 2016:
Brussels (Belgium), 25 April 2016 – 7:00 (CEST) – regulated information –
UCB continues its growth path in 2016
Product growth drives top line growth
R&D update: Phase 3 studies FRAME and BRIDGE with romosozumab report positive topline results, topline results from EXXELERATE with Cimzia®
Financial outlook 2016 confirmed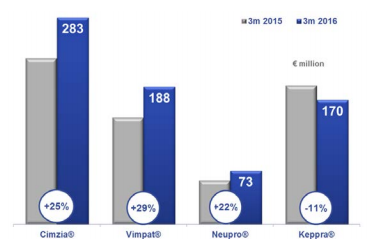 1 CER = constant exchange rates
2 EBITDA = Earnings Before Interest, Taxes, Depreciation and Amortization charges
All figures are unaudited.
 
R&D update
Bone - In February 2016, positive top-line results from the Phase 3 placebo-controlled study in postmenopausal women with osteoporosis (FRAME): FRAME met all co-primary endpoints by reducing the incidence of new vertebral fractures through months 12 and 24 in postmenopausal women with osteoporosis treated with romosozumab3.
The study also met the secondary endpoint of reducing the incidence of clinical fractures (composite of symptomatic vertebral and non-vertebral fractures) in postmenopausal women with osteoporosis through 12 months. The secondary endpoint of reducing the incidence of non-vertebral fractures through months 12 and 24 was not met.
In March 2016, positive topline results from the phase 3 study evaluating romosozumab to raise bone mineral density in men with osteoporosis (BRIDGE): BRIDGE met all primary and secondary endpoints.
These results add to the growing body of positive late-stage results evaluating efficacy and safety of romosozumab in patients with osteoporosis.
ARCH, a Phase 3 study in postmenopausal women with osteoporosis assessing reduction in fracture incidence with romosozumab compared with an active comparator is expected to report results in 2017.
Immunology – In 2015, the C-EARLY™ trial (52 weeks) in adults with continued severe, active and progressive rheumatoid arthritis not previously treated with methotrexate or other disease-modifying anti-rheumatic drugs demonstrated that Cimzia® (certolizumab pegol) provides significant clinical benefit and inhibition of progression of radiographic damage, supporting the concept of an early window of opportunity for treatment. In February 2016, UCB reported further on the C-EARLY™ trial from week 52 to 104 and evaluated treatment strategies to sustain a low disease activity state, without a flare, when Cimzia® dosing is maintained, reduced or stopped.
A lower number of patients than expected qualified for entry to the second period resulting in outcomes that were clinically meaningful but did not reach statistical significance. Patients who stopped Cimzia® had a tendency to worsen over time.
In March 2016, UCB announced top-line results from EXXELERATE, the first head-to-head superiority study of two treatments in the anti-TNF class, comparing Cimzia® plus methotrexate (MTX) to Humira® (adalimumab) plus MTX in adult patients with moderate to severe rheumatoid arthritis who are inadequate responders to MTX. The primary endpoints for superiority were not met, as results between Cimzia® and Humira® were numerically comparable. This study was designed as a treatment approach in line with core principles of the treat-to-target guidelines, which advocate evaluating response early and ensuring a change in therapy for patients not responding at three months.
In March 2016, UCB7665 started in a Phase 2a trial in patients with immune thrombocytopenia (ITP). First results are expected in H2 2017.
Neurology - in January 2016, Vimpat® (lacosamide) as monotherapy in the treatment of adults with partial-onset seizures was filed with the European authorities.
Briviact® (brivaracetam) was approved in the EU in January 2016 and in the U.S. in February 2016.
UCB3491, a new treatment option for epilepsy started clinical Phase 1 in January 2016.
All other clinical development programs are continuing as planned.
 



1 CER = constant exchange rates
2 EBITDA = Earnings Before Interest, Taxes, Depreciation and Amortization charges
All figures are unaudited.
For further information, UCB:
Investor Relations
Antje Witte         
Investor Relations, UCB
T +32.2.559.94.14 antje.witte@ucb.com
Isabelle Ghellynck,
 Investor Relations, UCB
T+32.2.559.9588, isabelle.ghellynck@ucb.com
Corporate Communications
France Nivelle 
Global Communications, UCB
T +32.2.559.9178 france.nivelle@ucb.com
Laurent Schots
Media Relations, UCB 
T+32.2.559.92.64  Laurent.schots@ucb.com
About UCB
UCB, Brussels, Belgium (www.ucb.com) is a global biopharmaceutical company focused on the discovery and development of innovative medicines and solutions to transform the lives of people living with severe diseases of the immune system or of the central nervous system. With more than 7 500 people in approximately 40 countries, the company generated revenue of € 3.9 billion in 2015. UCB is listed on Euronext Brussels (symbol: UCB). Follow us on Twitter: @UCB_news
Forward looking statements
This press release contains forward-looking statements based on current plans, estimates and beliefs of management. All statements, other than statements of historical fact, are statements that could be deemed forward-looking statements, including estimates of revenues, operating margins, capital expenditures, cash, other financial information, expected legal, political, regulatory or clinical results and other such estimates and results. By their nature, such forward-looking statements are not guarantees of future performance and are subject to risks, uncertainties and assumptions which could cause actual results to differ materially from those that may be implied by such forward-looking statements contained in this press release. Important factors that could result in such differences include: changes in general economic, business and competitive conditions, the inability to obtain necessary regulatory approvals or to obtain them on acceptable terms, costs associated with research and development, changes in the prospects for products in the pipeline or under development by UCB, effects of future judicial decisions or governmental investigations, product liability claims, challenges to patent protection for products or product candidates, changes in laws or regulations, exchange rate fluctuations, changes or uncertainties in tax laws or the administration of such laws and hiring and retention of its employees.
Additionally, information contained in this document shall not constitute an offer to sell or the solicitation of an offer to buy any securities, nor shall there be any offer, solicitation or sale of securities in any jurisdiction in which such offer, solicitation or sale would be unlawful prior to the registration or qualification under the securities laws of such jurisdiction. UCB is providing this information as of the date of this document and expressly disclaims any duty to update any information contained in this press release, either to confirm the actual results or to report a change in its expectations.
There is no guarantee that new product candidates in the pipeline will progress to product approval or that new indications for existing products will be developed and approved. Products or potential products which are the subject of partnerships, joint ventures or licensing collaborations may be subject to differences between the partners. Also, UCB or others could discover safety, side effects or manufacturing problems with its products after they are marketed.
Moreover, sales may be impacted by international and domestic trends toward managed care and health care cost containment and the reimbursement policies imposed by third-party payers as well as legislation affecting biopharmaceutical pricing and reimbursement.