World AS Day: Enhancing the Patient Experience through Key Collaborations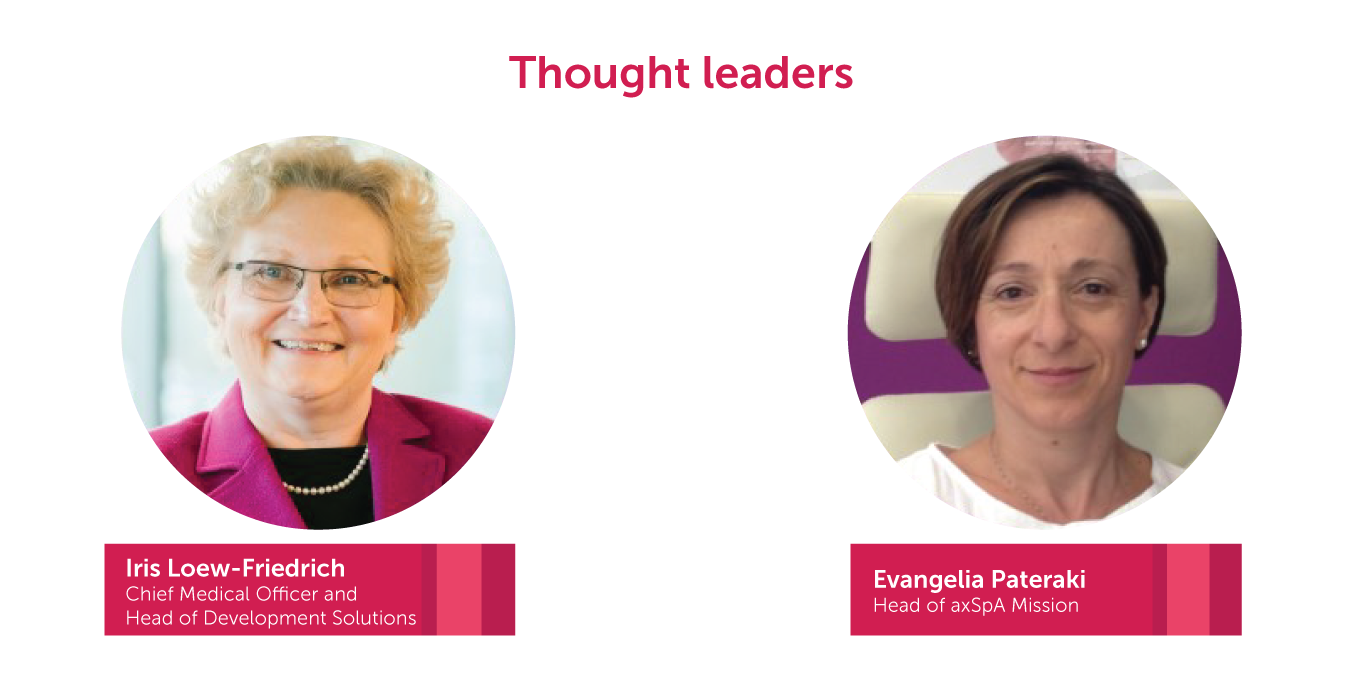 At UCB, we pride ourselves on working in a collaborative and transversal spirit across the value chain, both internally and externally to accelerate our solutions to people living with severe diseases. As we approach World AS Day on Saturday, May 8, an annual day dedicated to people with axial spondyloarthritis (axSpA), we want to highlight a few key partnerships that enable us come together in common cause, sharing ideas and working with purpose to make positive change for patients.
axSpA is a chronic, inflammatory disease, predominantly impacting the spine and sacroiliac joints.  It can cause chronic inflammatory back pain that does not improve with rest, severe fatigue, restricted mobility, and disturbed sleep. The disease typically starts in late teens to mid-twenties, a critical period in terms of education and beginning a career path. Without early diagnosis, intervention and effective treatment, it can lead to significant disease progression and permanent disability. axSpA affects millions of people around the world and an accurate diagnosis may take 8-10 years from the initial symptom onset. Women often experience even longer delays to diagnosis than men.
In order to address the challenges that patients face in receiving a timely and accurate diagnosis, UCB has been closely collaborating with several axSpA patient organizations, including NASS (National Axial Spondylarthritis Society) and ASIF (Axial Spondyloarthritis International Federation).
In the UK, we are proud to collaborate in the development and launch of the NASS Gold Standard
Time to Diagnosis Project
. This is the world's first initiative to set a Gold Standard for the diagnosis of axSpA.
It aims to reduce the average time for diagnosis from eight-and-a-half years in the UK to just one.
This ambitious goal would reduce long term burden and be a huge win in the patient's journey in this disease.
Dale Webb, CEO of NASS recently said, "The average time to diagnosis for axSpA has not improved in the UK despite the development of national clinical guidance and the recognition of the utility of MRI in diagnosis. We are in danger of normalising this situation unless bold and urgent action is taken. No-one should be locked out of life because of diagnostic delay. An earlier diagnosis will enable people to live happy, healthy and productive lives, reduce the risk of complications, and reduce healthcare costs, by allowing them access to effective therapy."
UCB and ASIF have partnered on the development and international roll-out of
Delay to Diagnosis (D2D)
. Through this program ASIF aims to
reduce the average time to diagnosis as well as raise awareness about the disease
and detrimental effects of the delay, physically, psychologically and economically. ASIF will do this by collaborating with researchers and community members, creating an axSpA Global Burden Statement, so that health systems can be improved and disparities can be eliminated. The program will build awareness and advocacy tools for use world-wide to reduce the delay to diagnosis for axSpA patients wherever they live. Michael Mallinson from ASIF commented, "Earlier diagnosis and treatment lead to better patient outcomes including remission. This is why this project is so important".
UCB is committed to supporting the axSpA community through purposeful partnerships that empower patients, raise awareness, and improve axSpA patient care and outcomes.
About ASIF (Axial Spondyloarthritis International Federation)
ASIF is a global umbrella organisation established to increase awareness of Axial Spondyloarthritis (axSpA) and related conditions. It aims to disseminate knowledge of the disease around the world to key stakeholders including patients, rheumatologists and other health care professionals, researchers, pharmaceutical organisations, policy makers and the general public.
About NASS (National Axial Spondylarthritis Society)
NASS seeks to transform the diagnosis and care of people living with axial SpA. They campaign policy makers for early diagnosis and better services and work with the NHS to get axial SpA identified and diagnosed quickly. They are determined that everyone receives effective care. They build an active community, making sure people with axial SpA get the latest information and the support they need to tackle living with this condition, online and through local branches across the UK. Axial SpA may work silently. But they don't.