How can dogs help people with epilepsy?
Companionship, warmth, loyalty – there are lots of reasons to keep dogs as pets. But what about training dogs for medical support?
Dogs have long been used as guide dogs for people who are blind, for mountain rescue, and as aids to law enforcement services, but they also have a stellar track record as 'seizure response dogs' – dogs trained to provide essential help (mostly) immediately after a seizure.
These highly-trained dogs can activate alarms, wake their owner, or retrieve a telephone or medication. They can even help their owners to avoid danger and assist them in crossing the street.
UCB has been supporting canine assistance programmes for people with epilepsy for several years and has recently been helping a Moscow centre to purchase and train two Labrador puppies. The two dogs are expected to start working with patients in 2013.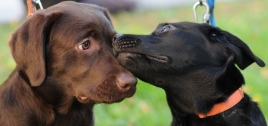 UCB Russia first made contact with the centre in 2011 and connected dog trainers in Moscow with Hachiko, a Belgian organisation which trains dogs.
Our company has a long-standing relationship with Hachiko and also supports canine assistance programmes in a number of countries, including the US.
To find out more about the fascinating work of Hachiko and how dogs are trained for such specialised tasks,
click here