Find your groove this Myasthenia Gravis Awareness Month
Some patients call myasthenia gravis (MG) the 'snowflake disease', because no two experiences of this rare, neuromuscular condition are alike. But with every individual experiencing this variable and unpredictable disease differently, MG can leave people living with the condition feeling isolated.
So, because MG plays differently for everyone, UCB is encouraging the global MG community to speak with one voice for the first-time during MG Awareness Month this June. As a result, people living with MG from countries across the globe - Finland, France, Germany, Spain and the US - have helped to co-create the My Groove campaign to share songs and knowledge about the condition.
My Groove explores how music can help support people living with MG and be a way to bring people together. All the music shared on social media using #MyGroove will be collated into a public playlist of the sounds that comfort and empower people living with MG.
This activity is part of UCB's commitment that nothing about patients' experience will be developed without actual patient involvement.
Pilar, from Spain, lives with MG. She commented: "One of the most difficult things with having MG is you can't know what symptoms you might experience, or whether they will be mild or serious, from one day to the next. This variability can leave people feeling very alone. My Groove uses the universal language of music to bring people living with MG together and support them in good times and bad."
Also from Spain and living with MG, Raquel said of her musical selection, 'Qué bien' by Izal: "This song reminds me that our bodies receive lots of information through our senses, and this is something that myasthenia should not be allowed to diminish. We must try to be free to seize the day."
MG is a rare, chronic, autoimmune, neuromuscular disease, where voluntary muscles don't respond well to the signals from the brain.4,5 This leads to a range of unpredictable symptoms which can vary in intensity, and worsen as muscles are used. Common symptoms are muscle weakness, blurred or double vision, speech problems and overall fatigue. If the muscles affected are involved in swallowing and breathing, the condition can be life-threatening. The impact of MG on daily life can be severe.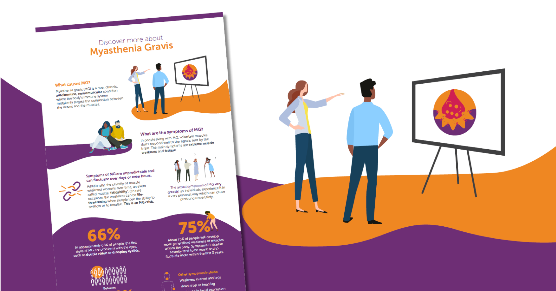 As part of the My Groove campaign, UCB has co-created an infographic with people living with MG, to raise public awareness of the condition. The infographic is available to view in its entirety by clicking
here
Although there is currently no cure for MG, a number of options exist to help manage the symptoms. Whilst treatments are effective for most, they do not help all people with the condition.
This June, you can help turn up the volume on this rare disease. Follow the campaign on #MyGroove, share the MG infographic, and support those living with MG.