Digital innovators rethink epilepsy care

Posted by
Eimear O'Brien, New Patient Value – Neurology
06-May-2015
At UCB we believe that the lives of people living with epilepsy can be improved through innovation.
That can mean developing medicines that control seizures, exploring the frontiers of
gene research
or harnessing the power of supercomputers.
There are no limits on innovation – it is about thinking big and collaborating with a broad coalition of partners.
In keeping with this spirit of openness, we were inspired to create the '
Hack Epilepsy
' initiative. 'Hackathons' are an increasingly popular way to apply fresh thinking and creative design to complex problems.
This
epilepsy hackathon
, held simultaneously in Brussels and Atlanta from April 24 to April 26, has delivered a number of prototype digital solutions for epilepsy patients.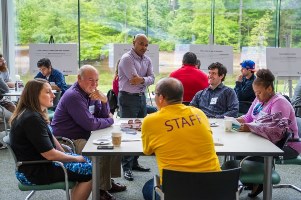 The goal of Hack Epilepsy was to come up with practical and workable prototypes that answer four broad challenges, including accessing effective support and reliable information, empowering people to talk about their epilepsy, and knowing what questions to ask following diagnosis.
The event brought together developers, designers and digital experts, along with healthcare providers, people living with epilepsy, neurologists and entrepreneurs to imagine new ways of applying digital technologies that can make a real difference for the epilepsy community. The competition was judged by diverse juries in
Atlanta
and
Brussels
. Across both sites there were over 100 participants.
Brussels
1st place: Team Helpilepsy
Personalised notification and detection system that can seek help from specific groups in a geolocalised environment and store all generated data
2nd place: Team Interruptions    
Portable, accessible epilepsy simulation experience
3rd place: Team Aura
Adaptive seizure alerts and fast context surveys for pattern recognition
Atlanta
1st place:  Team BioMarkEP
Combining mobile technology, wearables and machine learning to discover quantitative biomarkers that could lead to early prediction of an oncoming seizure
2nd place: Team Recover Epilepsy
Mobile app for patients to create and deploy their own personalized post-seizure recovery plans and galvanize their care networks seamlessly
3rd place: Team Neurish
Social network that enables all epilepsy patients to identify and contact mentors, i.e. patients with similar seizure types who are living successfully with epilepsy.
For details of the challenges presented at Hack Epilepsy and more information, go to
www.hackepilepsy.com
.