UCB wins award for helping people with rheumatic diseases
A leading Spanish newspaper has recognised UCB Iberia's contribution to R&D for rheumatic diseases. The "A Tu Salud" award presented by "La Razón" is one of the most important prizes in Spain in the field of health.
The award reflects UCB's tireless research in rheumatology which has generated real value for patients, as well as innovative initiatives designed to improve quality of life by supporting the patient community.
This is the sixth year of the "La Razón's A Tu Salud Awards" which recognise excellence and innovation in the fields of medicine, science and technology, and the environment. The prizes were presented by the Minister of Health, Dolors Montserrat, at a ceremony attended by leading Spanish healthcare stakeholders. The winners were chosen by a jury of 12 well-known personalities from the world of health.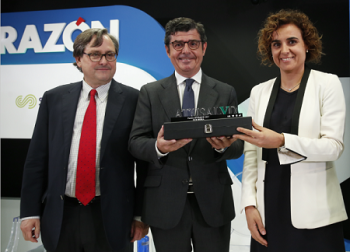 From the left to the right: Francisco Marhuenda, President of La Razón, Jesús Sobrino, Area Head Iberia and Dolors Montserrat, Spanish Minister of Health Social Services and Equality


Meeting patients' needs
UCB was praised for its contribution to research which has helped to bring revolutionary new treatments for rheumatic diseases to patients. We were also pleased to hear acknowledgement of our efforts to improve patients' quality of life and increase adherence to medicine.
For example, UCB-led initiatives such as the Health Ecosystem Solution (HES) and the patient education website "Arthritis Hoy" show our commitment to bringing new ideas to patient care.
The HES supports patients with educational material and training in their own homes. Through psychological supports and advice on healthy lifestyles, a holistic approach to improving quality of life is taken.
Arthritis Hoy
is a Spanish-language website which offers support to patients with rheumatic diseases such as rheumatoid arthritis, spondyloarthritis or psoriasic arthritis. This site is full of information about staying healthy, expert advice and video testimonials from patients.
These initiatives have established UCB as a leading player in the field of rheumatology. The recent award from "La Razón" provides an additional boost to our reputation in Spain. The prize has received strong media coverage, not least from "La Razón" which published a supplement which had a readership of around 235,000. TV, radio and online media have also covered the event.
At UCB, we take endorsements like this as a sign that we are doing something right. It encourages us to continue to find new ways to bring value to patients through our medicines and by developing imaginative patient-support initiatives.