Celebrating 10 years of innovating together
UCB is committed to working with others towards our shared goal of bringing innovative medicines to patients in need. That is why we have consistently been enthusiastic participants in the EU Innovative Medicines Initiative (IMI).
Launched in 2008 with the support of the EU and the European Federation of Pharmaceutical Industries and Associations (EFPIA), the IMI has initiated 100 projects so far that take a collaborative, open innovation approach to some of the biggest challenges in medical research and drug development today.
Together, IMI participants have developed new targets, tools and pathways that will accelerate the development of medicines and vaccines; enhanced the speed with which basic science is translated into clinical applications; developed the regulatory environment to support personalised medicine; and helped to make patient engagement a mainstream feature of drug development right across the value chain.
Our leaders have occupied key strategic roles on the IMI Governance while our scientists have worked with broad networks of experts from industry and academia, regulators, as well as with patients themselves, to advance medical knowledge. These include tackling the challenge of
Alzheimer's disease
,
rethinking how diseases are classified
, and
equipping patients with the skills
needed to play a central role in how medicines are developed and regulated.
The IMI's first decade was celebrated at an event in Brussels on 27 June 2018 with over 400 participants highlighting how IMI project results translated into concrete benefits for European citizens.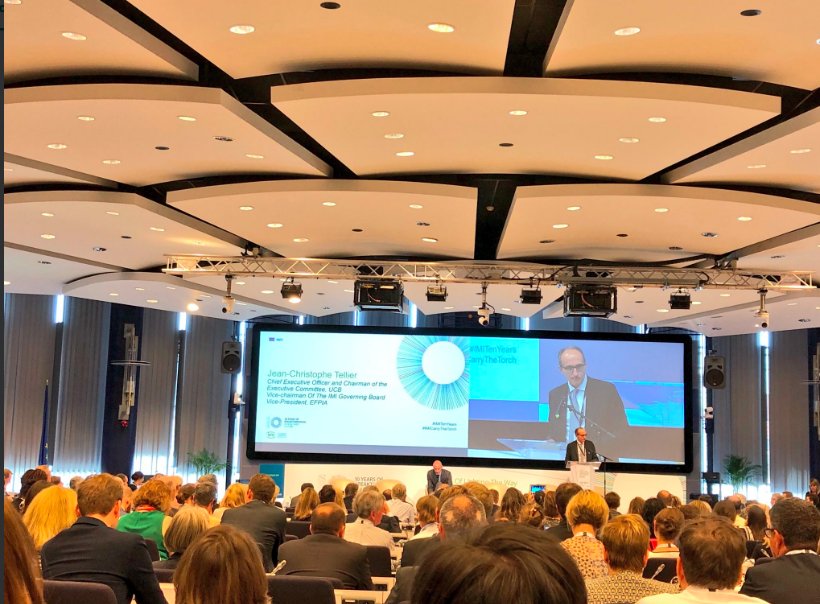 Among the speakers and panellists were Carlos Moedas, European Commissioner for Research, Science and Innovation, Jean-Eric Paquet, Director General, DG Research and Innovation, European Commission and Jean-Christophe Tellier, CEO of UCB, incoming Chairman of the IMI Governing Board and Vice President of EFPIA as well as Dhaval Patel, CSO of UCB.
It was clear that much of the value of the IMI comes from the cultural shift it has driven in terms of how a diverse group of stakeholders, aiming to address common healthcare issues, collaborate together. Today collaboration is no longer a choice, it is a must.
As it marks its 10th anniversary, we are pleased to be part of this ground-breaking initiative and look forward to continued participation as IMI continue to deliver value for patients and society. The next occasion to celebrate is the
IMI scientific symposium
in October.