A lifetime serving science and patients
Long before UCB adopted the tagline '
Inspired by Patients. Driven by Science
.' Dr Henrik Klitgaard seemed to embody its spirit.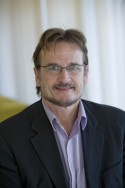 Henrik has been awarded the Lifetime Accelerator Award by the Epilepsy Therapy Project (ETP), a non-profit organisation, in recognition of his commitment and contributions to epilepsy research, and for advancing new treatments for people with epilepsy.
The award is in recognition of more than
two decades devoted to antiepileptic drug (AED) discovery and was established to honour doctors, scientists, industry leaders and others who have dedicated their working lives to finding new epilepsy therapies.
Henrik, UCB's Vice-President for Research and Fellow, Neurosciences Therapeutic Area, has been involved in the discovered and development of two AEDs and continues to work on several preclinical and clinical candidate therapies.
Everything he has done – and continues to do – is with the goal of improving the lives of patients by pushing the boundaries of scientific knowledge and applying it to the problems faced by people with epilepsy.
It has been a long and productive career – and is far from over! Henrik received a PhD in human physiology from the University of Copenhagen in 1989 and went on to work at the Pasteur Institute in France and Harvard University in the U.S.
He has conducted research at both Novo Nordisk and UCB, published 80 peer-reviewed papers, authored 15 reviews and books chapters, and is a frequent speaker at epilepsy congresses.
A leading figure in the epilepsy research community, Henrik is on the US National Institute of Health's epilepsy advisory committee, the Neurobiology Committees of both the International League Against Epilepsy and American Epilepsy Society, and he holds a seat on the Scientific Advisory Committee of the patient organisation C.U.R.E. (Citizens United for Research in Epilepsy).
Henrik will be presented with the award at a reception during the 12th Antiepileptic Drug and Device Trials conference in the U.S. later this month.
The award is richly deserved and we are proud, as ever, to call him a colleague.