UCB wins Human Resources Award
Fabrice Enderlin, Chief Talent Officer & Company Reputation, UCB, has been named HR Manager of the Year by Trends Tendance, a top business magazine in Belgium. The award reflects the contribution of our human resources team to creating a culture of innovation and dynamism in employees.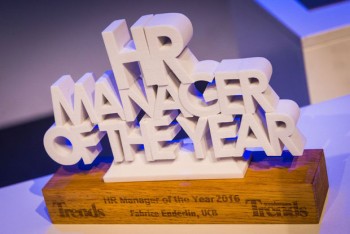 Together, this 160-strong global HR team manages 7,700 people, 70 nationalities, in 30 countries using more than 20 languages to create a truly international atmosphere.
HR's role in creating the right environment is significant so we are delighted to see our colleagues honoured with this award.
A company is only as good as its people. Getting the right people with the right skills and bringing these individuals into a team with a shared purpose is a great challenge.
More than 80% of employees express pride in their work at UCB – higher than the global benchmark for our industry – the company has an engagement rate of 83%.
Fabrice and his team are responsible for recruiting hundreds of people per year and integrating them into our global company. Their task is to find people who can be Inspired by Patients. Driven by Science and to instill a pride in what we do here at UCB.
The team must also keep one eye on the future. As the world of work is changing, UCB looks for exceptional people with the skills required to take a collaborative approach to solving our shared problems.
UCB's goal is to create value for patients. To do this, our HR team creates an environment where people can express their talent; where they can innovate as individuals and play a vital role in an innovative company. This innovative culture is at the heart of what we do.