UCB seals manufacturing deal with Samsung

Posted by
Scott Russell, Partnerships and Alliances
17-Jul-2018

Producing biological medicines for a global market requires diverse sources of supply. That is why UCB has signed a manufacturing agreement with Samsung BioLogics.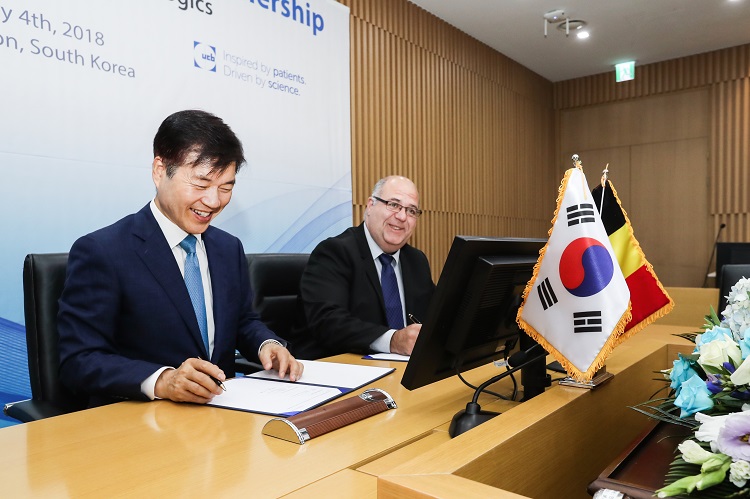 From left to right: Dr Tae Han Kim, President and CEO, Samsung BioLogics and Cleo Ricci, Head of Global Technical Operations, UCB

The new deal covers the development and commercial manufacturing of an investigational product currently being developed for psoriasis, psoriatic arthritis and ankylosing spondylitis.
UCB was represented at the signing ceremony in Seoul, South Korea, by Cleo Ricci, Head of Technical and Supply Operations, and Scott Russell, TSO Head Partnerships and Alliances.
The investigational medicine is currently produced at UCB's bioplant in Belgium. Under the arrangement with Samsung BioLogics, the drug will also be produced in Samsung's Plant No. 2 in the city of Incheon, South Korea.
The first two engineered batches of the product have been run at the Incheon plant and the focus will now move to process validation.
Samsung BioLogics is a global full-service provider of contract process development and cGMP manufacturing to the biopharmaceutical industry. Their facilities are custom designed for monoclonal and recombinant production.
The deal delivers the manufacturing diversity required to manufacture and supply this new product for patients around the world. We look forward to working with our new partners at Samsung to tackle unmet patient need.