UCB highlights latest research in osteoporosis care at ASBMR Annual Meeting
This week, colleagues from the UCB Bone Patient Value Unit will be presenting our latest osteoporotic care research at the Annual Meeting of the American Society for Bone and Mineral Research (ASBMR).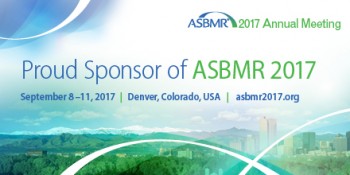 Taking place in Denver, Colorado from September 8 – 11, the Annual Meeting is the world's largest and most diverse meeting in the bone, mineral and musculoskeletal research field, attracting a large number of attendees from across the world.
More than 200 million people worldwide have osteoporosis and the condition is responsible for 8.9 million fractures annually worldwide. Yet, osteoporosis is severely underdiagnosed - 80% of people who have had at least one osteoporotic fracture are neither identified nor treated7 – leading to the condition being called the 'silent disease'.
This year, UCB will be presenting key research into the treatment of osteoporosis, including
Data on our investigational monoclonal antibody (romosozumab) compared to the standard of care in the treatment of postmenopausal osteoporosis
An evidence-based theoretical model for fracture risk which examined both direct and indirect effects of several predictors on having one or more fractures in the immediate year after assessment
Data from a retrospective cohort study in osteoporosis patients to describe frequency of transitions between T-score (a measure of bone density) categories, and the quantitative changes in bone mineral density according to drug treatment.

The UCB Bone Patient Value Unit is committed to working together with the bone community to improve the treatment of osteoporosis and helping to create a world free of fragility fractures.
For more updates on UCB activities at ASBMR 2017 follow us on
Twitter
. To learn more about UCB in osteoporosis, go to our
Disease Areas section
.