UCB at EULAR 2017 - Spotlight on Scientific Innovation, Patients at Center Stage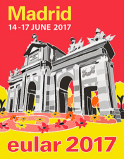 With 19 presentations covering a diversity of rheumatologic diseases and patient populations, UCB emerged as a leading voice at the Annual European Congress of Rheumatology (EULAR 2017) in Madrid, Spain.
EULAR 2017 included some of our most groundbreaking research to date, reflecting our goal to make a meaningful difference for immunology patients with high unmet needs, including:
Important positive new data for women of childbearing age with inflammatory diseases
The first four-year imaging data for patients with active axial spondyloarthritis (axSpA), including ankylosing spondylitis and non-radiographic axSpA.  Findings for patients with psoriatic arthritis and its extra-articular manifestations
Investigational research on pipeline drugs for a variety of rheumatologic diseases.

To learn more about these UCB data at EULAR 2017,
click here
.
This level of UCB innovation in science is possible because we pioneer partnerships in immunology with leading researchers and physicians who share our commitment to patients. Since our founding in 1928, UCB has collaborated with partners like these:
The Harvard University Research Alliance, exploring the human microbiome to identify new drugs for preventing or treating immunological diseases
The Medical Research Council, using insights into new monoclonal antibodies to understand the mechanisms of human disease and identify novel therapeutic opportunities
Industry leaders like Amgen and Dermira, helping to treat post-menopausal women with osteoporosis and psoriasis patients, respectively
Specialists in next gen technology, developing digital platforms supporting disease management, measuring patient experience and expediting insurance approvals.
For more updates from EULAR 2017 on this spirit of partnership and how it is helping to change rheumatology today, watch
UCB.com
and follow us on
Twitter
.
To learn more about UCB immunology, go to
http://www.ucb.com/disease-areas/.