New Japan head office in Tokyo

Posted by
Joel Peterson, UCB Japan
20-Jun-2012
We had the great pleasure last week of welcoming Belgian royalty and senior politicians to Tokyo for the opening of our new Japan Head Office.
HRH Prince Philippe of Belgium, Jean-Claude Marcourt, Minister of the Walloon Region, and Didier Reynders, Belgian Minister of Foreign Affairs were in Japan for a Belgian Economic Mission and kindly joined us for the event.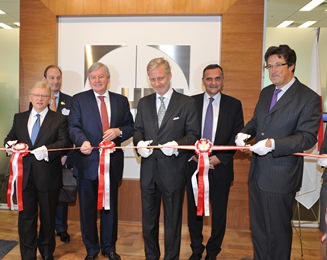 Cutting the ribbon: Joel Peterson (Managing Director Japan), Minister Marcourt, Prince Philippe, Didier Malherbe (VP Public Affairs).
It was an important occasion for us at UCB as it reinforces our commitment to improving the lives of people in Japan living with immunological and central nervous system diseases.
This is a strategic market for us given the size and profile of the Japanese pharmaceutical market. Japan has a 10% share of the worldwide pharmaceutical market and this could grow as the population ages.
This country's demographic trend is well known: by 2020, more than 28% of Japan's 127 million population will be aged 65 years or older. In 2009, 8% of GDP was spent on healthcare but this is predicted to rise to 10% by the end of the decade.
For us, Japan represents an opportunity for the future but it's one that we recognised some time ago. Last year Japan represented 7% of our company's net sales.
UCB has been here for almost 25 years and already employs more than 300 people in Japan. We have sales offices in major cities across the country, as well as a plant in Saitama.
Our new office hosts our sales and marketing, clinical development, regulatory affairs and support teams. The building is designed to improve the working environment and to foster greater communication among our staff. Thanks to the latest technology, it has also been built to an excellent safety standard.
The company has also been developing close links with a number of key strategic partners in Japan in order to bring our medicines to patients in Japan.
We look forward to many more years of success here and hope our new head office demonstrates our long-term commitment to patients, customers and partners in Japan.