Introducing UCB's first Sustainability Report
The Sustainability Report 2016
opens a new chapter in CSR reporting, setting out the principles that underlie our work and providing details of investment and sponsorship as well as gender balance and environmental initiatives.
The document is available as
a printable PDF
, in addition to a
web-based edition
. From next year, the report will be available in digital format only, thus minimising the environmental impact while ensuring that it remains available to all.
UCB is compliant with the Global Reporting Initiative (GRI) G4 Sustainability reporting Guidelines since 2015. This external standard for understanding and communicating sustainability issues requires companies to identify material aspects for the business. At UCB, we have identified five. We are committed to:
Conducting business responsibly and ethically
Building an agile organization to improve access to quality care for persons with severe chronic diseases
Accelerating environmental stewardship and sustainability across UCB's worldwide operations
Providing access to epilepsy care in resource-poor countries, through active engagement in activities that improve access to care for persons living with epilepsy
Encouraging employee engagement in innovative and creative patient and planet initiatives.

These core drivers of our work were identified via stakeholder dialogues as the most critical items for UCB to focus on, and the Sustainability Report is designed to specifically address these topics.
You will also find details of UCB's investments in training and community projects, as well as key measures of progress on reducing waste.
We hope this new approach to reporting makes it even easier to see UCB's commitment to sustainability and look forward to hearing feedback from stakeholders on this new era in our CSR story.
Sustainability in numbers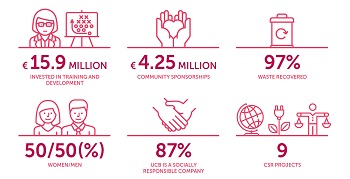 Read more on our CSR pages
.