UCB's CSR programme makes an appearance in Beijing

Posted by
Isabelle de Cambry, Corporate Social Responsibility
22-Nov-2011
That's why we are delighted to support the new epilepsy centre at the Peking University First Hospital in Beijing, which was officially opened by HRH Princess Mathilde of Belgium as part of the Belgian economic mission to China.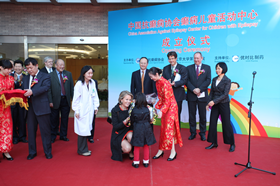 The new centre will help to raise awareness of epilepsy and builds on our ongoing collaboration with the Chinese Association Against Epilepsy (CAAE).
This collaboration fits perfectly with our Corporate Social Responsibility (CSR) strategy, which is based on four pillars:
patients, people, ethics, and planet
. Our CSR progress is measured  using an internationally accepted framework called the Global Reporting Initiative (GRI), which is checked and reviewed by PricewaterhouseCoopers.
I believe the Beijing initiative is a  good example of how our CSR efforts can be translated into better diagnosis and treatment of patients.
When it comes to caring for  people, we also look internally. We have recently completed a major survey of all our employees in an effort to highlight our strengths and weaknesses, and to boost employee engagement. Around 6,600 UCB employees (78% of the workforce) responded to the anonymous questionnaire and we are currently analysing the results.
Our commitment to ethics  can, amongst others, be illustrated in our extensive
clinical trials
programmes, where we meet the highest standards of research ethics and good clinical practice, while also improving transparency of the trials we sponsor. See our
Patients' section for more on clinical trials
.
UCB has been pretty innovative in terms of reducing its ecological footprint . Our
Carpooling for Cargo
initiative, a collaborative project which recently won a
prize for Supply Chain Innovation
, has been recognised for reducing our environmental impact while bringing benefits to patients.
As you can see, this news from Beijing fits into a long list of projects designed to  further implement our corporate mission of putting patients at heart. Read more about CSR in our dedicated
CSR section on ucb.com
.