Belgian economic mission to China welcomed by UCB to discuss biopharma innovation and cooperation

Posted by
Didier Malherbe, Public Affairs
22-Nov-2019
This week UCB is in Shanghai as part of a Belgian economic mission to China to explore how innovation can improve the lives of people with severe diseases. The mission, led by Her Royal Highness Princess Astrid of Belgium, Representative of His Majesty the King, included a China-Belgium luncheon focusing on 'Driving Biopharma Innovation for Patients in China'.
The event on 21 November, organised by UCB, attracted representatives from the Shanghai municipal government and key opinion leaders from the biopharma sector who discussed potential cooperation opportunities and the future development of biopharma.

UCB: A bridge between Belgium and China
In discussing global biopharma trends, both Belgium and China bring a lot to the table. China's economy has maintained stable and sound growth in recent years, continuously investing in innovation and improving the business environment.
Belgium, located at the heart of Europe, is an important hotspot for research and development in innovative medicines and the second largest drug exporter in the world. Belgium ranks third in the world for per capita achievements in biotech R&D ranking, and the second in Europe for the number of clinical trials.
With its strong Belgian roots and more than 23 years of activity in the Chinese market, UCB can serve as an excellent bridge for China-Belgium cooperation. As a leader in epilepsy we have not only introduced a variety of innovative treatments, but are also working with government and other partners to improve the level of epilepsy diagnosis, treatment and disease management in China.
These efforts
span from villages to cities, bringing disease education, enhancing doctor-patient interactions, strengthening patient follow-up management, improving access to drugs for patients, and much more, ultimately contributing to better chronic disease management in neurology.
In the field of immunology, UCB is focusing special attention on women's health where this is significant unmet need. A medicine approved earlier this year for the treatment of moderate-to-severe rheumatoid arthritis in China serves as a prime example.
In order to further accelerate patient access to innovative medicines in China, UCB is also committed to strengthening the interaction between China and Belgium in multi-regional clinical trials. This year, taking advantage of China's favourable policies for innovative drugs, two of UCB's most cutting-edge drugs – one for the treatment of highly drug-resistant epilepsy and one for the treatment of autoimmune diseases – have received approvals to start the phase III clinical trials in China together with other sites across the globe.
The recent trip to Shanghai has further strengthened the links between Belgium and China in the pharma sector. UCB is proud to be part of this story and we look forward to writing the next chapter.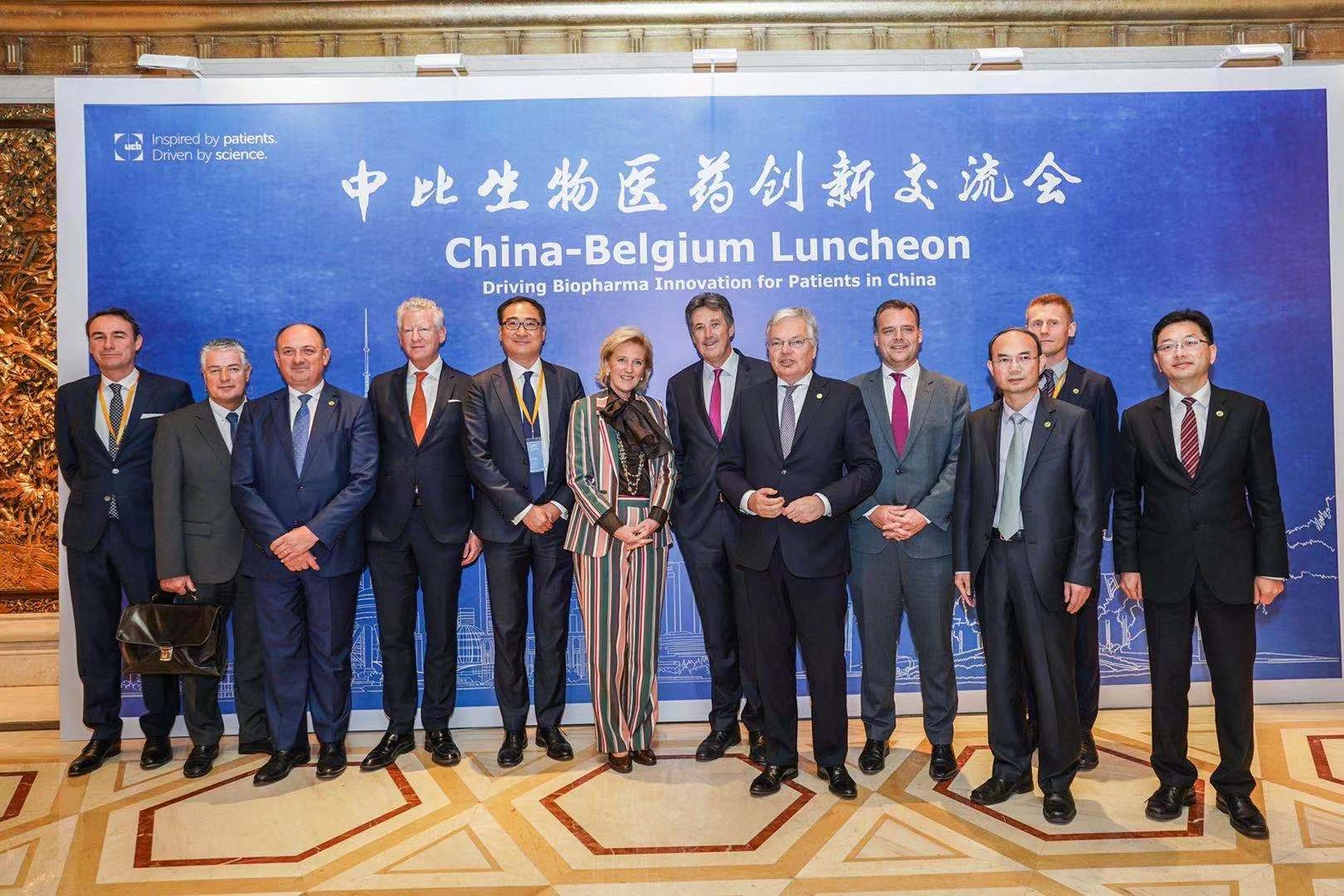 From left to right: Taco Van Tiel, UCB - HE Ambassador of Belgium to China, Marc Vinck - HE Willy BORSUS, Vice-President of the Walloon Government HE - Pieter DE CREM, Minister of the Interior, Security and Foreign Trade - Xin Wu, UCB  - Royal Highness Princess Astrid - Didier Malherbe, UCB - HE Didier REYNDERS, Deputy Prime Minister and European Commissioner elected - HE Philippe De Backer, Minister of Digital Agenda, Telecom and Postal Services - HE Ambassador of China to Belgium, Cao Zhongming- HE Paul Lambert, Consul general of Belgium in Shanghai - HE Paul Lambert, Consul general of Belgium in Shanghai - Representative of the Shanghai Municipal Government