Accelerating our collaboration with Georgia Tech
UCB is building on its partnership with Georgia Tech by opening a new Solution Accelerator in Atlanta. The 2,500-square foot center is located at Technology Square in downtown Atlanta, in Georgia Tech's innovation neighborhood.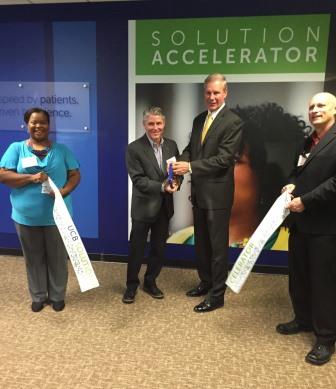 UCB cuts the ribbon at the UCB Solution Accelerator at Georgia Tech.
From left to right:  UCB Advocate Lakeisha P., UCB Executive VP of Neurology
Jeff Wren, Georgia Tech President G.P. "Bud" Peterson and UCB Advocate Chris M.

The initiative makes UCB the first pharmaceutical company to establish an innovation center in Technology Square and strengthens our presence in the greater Atlanta area – UCB's North America Headquarters is located in Smyrna, Georgia, a suburb of Atlanta.
This significant collaboration is an opportunity for UCB colleagues to tap into Georgia Tech's state of the art machine learning and advanced analytics resources. Together we will strive to improve patient care as well as the patient experience by harnessing the power of new technologies.
Regular readers will know this is not the first step in our partnership with Georgia Tech. We have launched several collaborative initiatives including a project designed to use
big data to benefit epilepsy patients
.
The new 'Solution Accelerator' is a natural extension of a partnership that has flourished in recent years. It places UCB in the heart of a vibrant innovation community where we can grow, learn and explore new ways to deliver for patients with severe diseases.
In fact, the beauty of being co-located with Georgia Tech in Technology Square is the potential for new ideas to emerge from disciplines outside the areas in which we have an established reputation – neurology and immunology.
We look forward to welcoming researchers, faculty and students from the Georgia Tech community to collaborate with our team.
Our experience of collaboration and open innovation tells us that sometimes the best ideas come from interactions between experts from different fields. By making a strong commitment to partnering with cutting edge researchers, the Solution Accelerator in Atlanta has the potential for sparking valuable innovations that push the boundaries of modern medicine.