Empowering Hope: UCB Australia's Commitment to Childhood Epilepsy Research

UCB Australia has announced a research grant aimed at achieving early diagnosis and better outcomes for children living with severe genetic childhood epilepsy.
A Collaborative Approach to Transforming Lives
October 27, 2023, marked a pivotal moment in the journey towards better understanding and managing childhood epilepsy. At an event titled 'Together for Severe Childhood Epilepsy,' UCB Australia, in partnership with Epilepsy Action Australia, joined by Her Royal Highness Princess Astrid of Belgium, Representative of His Majesty the King, gathered with around 150 guests from the epilepsy and health community, families with children living with severe epilepsy, and representatives of the Belgian economic mission to Australia. This diverse gathering symbolized the collaborative spirit and optimism that inspires and drives UCB's mission.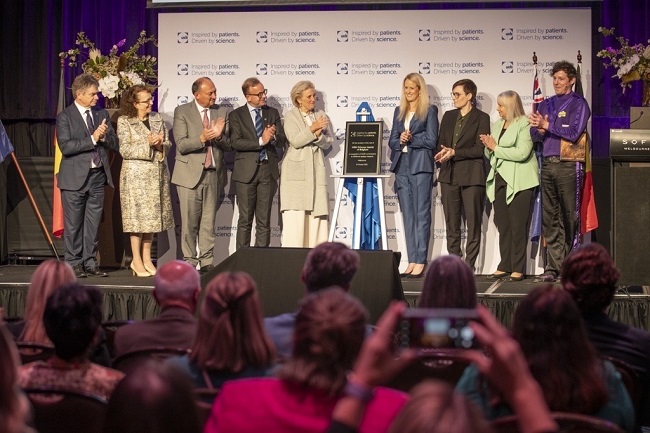 From the left to the right: HE Ambassador Goffin, Professor Ingrid Scheffer, Minister Willy Borsus, Xavier Hormaechea MD UCB Belgium, HRH Princess Astrid, Selina Clifford Country Lead Australia, Dr Katherine Howell from Murdoch Institute, Carol Ireland from Epilepsy Action, Lachie Gillespie from the Wiggles

UCB Australia's latest research grant is the next step in a journey that began with the Gene-STEPS pilot study—an international multi-center effort to evaluate rapid genome sequencing in infantile epilepsy. The results of this study emphasize the importance of longitudinal follow-up in demonstrating the significance of rapid diagnosis. Such timely diagnoses are crucial in enhancing clinical outcomes, quality of life, and ultimately, economic well-being. The ripple effect of this research will not only inform advocacy and policy decisions but also change the lives of Australian children and their families.
Dr. Katherine Howell, a consultant neurologist and recipient of UCB's grant on behalf of the Murdoch Children's Research Institute (MCRI), expressed the importance of research in the quest to manage childhood epilepsies. She noted, "Epilepsy is not just one condition, there are many different forms, with many different causes. We're privileged to be awarded this grant to continue the important research investigating the use and impact of rapid genome sequencing. The findings of this work will be critical for moving this technology out of the research sphere and into clinical practice, to improve outcomes for all Australian infants living with epilepsy." Her dedication to investigating genome sequencing aspires for a brighter future for children living with epilepsy in Australia.
Ms Carol Ireland, CEO, Epilepsy Action Australia said: "I've met many families who have children with challenging epilepsy, including those with drug resistant epilepsy and some of the more devastating syndromes. Continuing research for early diagnosis and effective treatment to target seizure control is essential to give these children the best possible start and optimal psychosocial and health outcomes for life. We thank researchers like Dr Katherine Howell as well as UCB who are continuing to support and foster better understanding into these debilitating chronic neurological conditions."
At the event, Lachy, the Purple Wiggle, an ambassador for Epilepsy Action Australia shared stories from families impacted by severe genetic epilepsy.
Approximately 1 in 200 children in Australia battles epilepsy, this condition characterized by recurrent, unprovoked seizures. These seizures vary in severity, with some children facing developmental impairments, drug-resistant seizures, and a high risk of mortality. These severe epilepsies come with psychosocial implications for the children and substantial economic costs for their families and the healthcare system.
In a world where collaboration, compassion, and cutting-edge research converge, UCB Australia's commitment to childhood epilepsy remains strong. Together, we are driving change, embodying the values that truly matter in life.  At UCB we remain inspired by patients and driven by science, always.